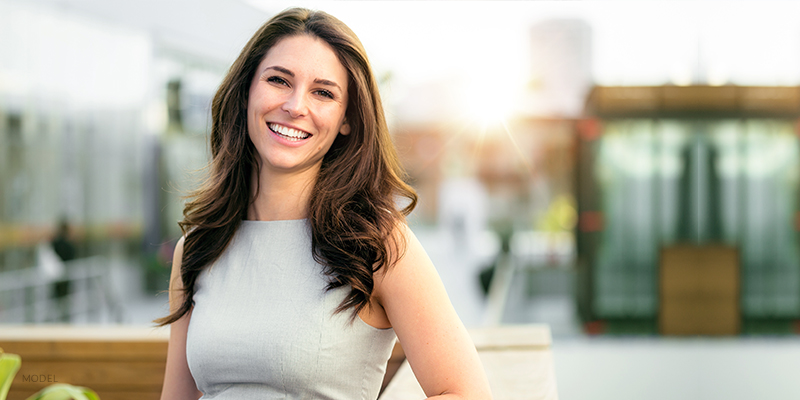 Have you been wondering about your options for breast implants? If your breasts are not the size you'd like, either due to genetics, weight loss, pregnancy or a mastectomy, Dr. Brucker of Brucker Plastic Surgery can help.  Every year, many women in La Jolla and Del Mar just like you trust Dr. Brucker for his more than 15 years of experience in placing breast implants that accentuate a woman's curves and silhouette, providing beautiful and natural results.
Your Breast Implant Options
When you come to Dr. Brucker for a breast implant consultation, you'll quickly learn that you have a lot of options to customize your surgery to meet your specific needs. The first decision that you and Dr. Brucker will need to make is what type of implants you will use for your breast augmentation procedure – silicone implants or saline implants.
Today, most women in the La Jolla and Del Mar areas choose silicone breast implants because:
They tend to provide a more natural look than saline implants and are less likely to show rippling through the skin.
They feel soft and more natural to the touch.
They move more naturally and realistically along with your existing breast tissue.
They typically have greater longevity than saline implants.
In contrast, there are some reasons that other women in La Jolla and Del Mar choose saline implants, instead. These reasons include:
They are less expensive than silicone implants.
With saline implants, routine MRI surveillance to detect rupture isn't necessary.
They provide a fuller, rounded appearance at the top of the breasts.
If you choose silicone breast implants, you'll also need to decide on an implant shape – round, which tends to create more fullness and cleavage or teardrop (also called "shaped" implants), which provides a more natural look, especially in the upper slope of the breasts
After you've chosen your breast implant type, you'll need to tell Dr. Brucker how large you'd like to go. Because bra sizes vary by manufacturer, he prefers not to simply target cup size.  Instead, Dr. Brucker uses an advanced, state-of-the-art technology called Vectra 3D Imaging. This system enables Dr. Brucker to show you what you would look like – in 3D – with various implant shapes, sizes, and profiles. Our La Jolla and Del Mar area patients love this technology because it enables them to see what their new figures will look like.  It also reduces the anxiety about choosing a size because patients can get a 3D view of how their new body will appear.
Choosing Your Breast Augmentation Incision Type
After you've decided on which breast implant type, size and profile you will be going with, it's time to determine what incision type you would like for your breast augmentation surgery:
Inframammary, in which an incision is made under the breast, and the scar is hidden by a bra or bikini line,
Periareolar, in which an incision is made on the lower border of the areola, and the scar is disguised by the natural coloration changes of the areola and the remainder of the surrounding breast skin,
Transaxillary, in which an incision is made in the underarm, or
Transumbilical, in which an incision is made in the belly button.
As the result of many years of practice, Dr. Brucker has found that the inframammary incision ensures the lowest occurrence of capsular contracture – a rare but sometimes challenging breast augmentation surgery complication in which scar tissue forms around the implant, causing the augmented breast feel firm and look misshapen.  Dr. Brucker will listen to your wishes and desires, and together you will come up with a personalized surgical plan based on your unique needs.
Your Surgery Day
During our breast implant consultations, one of the things our La Jolla and Del Mar area patients are most excited to talk about is their surgery day. Rest assured, you will be well cared for on the day of your procedure. First, you will arrive at our private AAAASF-certified surgical facility, offering you more personalized care and privacy than if you were to have your procedure performed at a hospital or outpatient surgical center. For ultimate comfort, you will be placed under a light general anesthesia during your surgery, so that you are asleep and completely unaware of the procedure. When you awaken, you will be rest for a short while in our recovery room, and then released to rest and relax in the comfort of your own home.
Post-Op Procedures
After you've had your breast implants placed, you'll likely take oral pain medication for 1 to 4 days. Shortly afterwards, most patients in La Jolla and Del Mar can return to non-strenuous activity, though individual recovery times do vary. Most women who receive breast implants are cleared to resume all regular activities 6 weeks after their procedure.
Call Us For a Consultation
If you're ready to have the breasts and silhouette you've always desired, or have additional questions about breast implants, we welcome you to schedule a consultation with Dr. Brucker personally. You can do so by calling his office in the La Jolla and Del Mar area at (858) 450-1776 today.