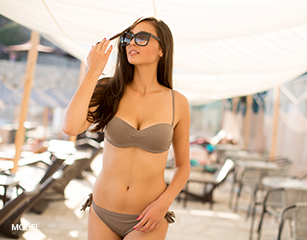 Many women know that a tummy tuck can provide them with a sleeker, trimmer abdomen, but did you know that one of the primary functions of a tummy tuck is to correct separated abdominal muscles? The vast majority of women in La Jolla are affected by some degree of abdominal muscle separation after pregnancy, medically known as "diastasis recti", especially after multiple pregnancies or having a baby with a high birth weight. Keep reading to learn more about diastasis recti, and how the youthful contours of your abdomen are restored by performing a tummy tuck procedure.
What Is Diastasis Recti?
Many women see me wanting to correct the leftover "pooch" after giving birth.  Components of this abdominal bulge are residual fat and/or loose skin, but more often than not, what contributes most to this "pooch" is separation of the abdominal muscles, or diastasis recti.
The rectus abdominal muscles run from top to bottom in a parallel direction in your midsection. We all have a natural separation between these muscles. Diastasis recti occurs when the abdominal muscles separate further during pregnancy to accommodate the growth of the fetus.  The connective fibers between the abdominal muscles stretch and usually remain this way after giving birth. In addition to cosmetic complaints, diastasis recti also contributes to low back pain due to a weakened core/abdominal muscles as well as to the development of umbilical hernias. Contrary to popular belief, weight loss and focused abdominal exercises cannot correct diastasis recti and can sometimes make it worse.
How Does A Tummy Tuck Correct Diastasis Recti?
As I mentioned earlier, a tummy tuck repairs diastasis recti which is what gives you a tighter midsection. But how does the tummy tuck procedure correct this after effect of pregnancy?
During a tummy tuck procedure, I create an incision from hip to hip which gives me the access I need to the abdominal muscles that need to be surgically repaired. I like to keep the incision well below your bikini line, so no one will be able to tell you've had work done. The separated abdominal muscles are then sutured back together in the middle. This provides my La Jolla patients with a permanent correction of their diastasis recti. Once these muscles have been repaired, you can say goodbye to that annoying post-pregnancy bulge you've been dealing with.
Next, the excess skin around the belly button is removed and I keep this incision inside your belly button, also so that no one will know you have had work done, and any excess skin and fat are also removed. This is what gives women the sleek tummy they've been dreaming of. After surgery, most of my patients report increased core strength, reduced back pain, and increased confidence.
I Can Help You Get The Relief You Need
My biggest goal is to help patients become the best version of themselves. If diastasis recti is a concern for you, I would welcome you to make an appointment at Brucker Plastic Surgery. My compassionate staff are ready to assist you on the road to a new you. We'd love to speak with you and we can be reached at (858) 450-1776.