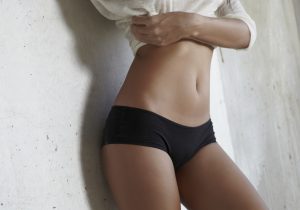 With our incredible year-round weather and the beautiful coastal climate of San Diego, it's easy to understand why La Jolla residents want to look like the best version of themselves at all times.   A complaint I hear often in my office is that no matter how much a La Jolla resident diets and exercises, stubborn fat deposits persist, causing a disproportionate body contour and problems with wearing certain types of clothing. For these La Jolla residents, liposuction – one of my most requested and popular plastic surgery procedures, is an ideal solution for achieving the smooth and proportionate contours they would like. 
What is Liposuction?
Liposuction, also called liposculpture, is a cosmetic surgery procedure that removes unwanted fat deposits from problem areas including the abdomen, thighs, back, buttocks, chest, hips, upper arms and the area beneath your chin.  At my office, we perform liposuction on my La Jolla patients by making very small incisions using 2 millimeter cannulas, often in the most inconspicuous locations so that once healed, no one will know you have had this procedure done.  Using a microcannula, I perform tumescent liposuction to remove unwanted fat deposits and recontour the body into a more shapely appearance.  I prefer the tumescent technique as it allows for a quicker recovery for the patient with less bruising and swelling and as a surgeon, allows me to have precise control over how much fat is removed from each problem area.  Unlike with Vaser and other power-assisted liposuction methods, I am able to assess the evenness of the procedure using the tumescent technique.  There are a lot of gimmicks involved with liposuction and fat removal and I believe that patient safety and ensuring smooth, even results are more important that keeping up with the latest fad that is here today and gone tomorrow.
I perform liposuction in my AAAASF-certified operating room when patients are under a light general anesthesia, for the ultimate in patient comfort and safety.  There are practitioners who perform this under local anesthesia but there are dangers associated with this such as lidocaine toxicity and incomplete numbing which can be very painful for the patient.  Being awake for this procedure can also be anxiety-inducing for many patients. 
How Much Fat is Removed with Liposuction?
One of the most common questions that La Jolla patients ask me about liposuction is how much fat it will remove. While each liposuction treatment removes as much fat as possible, it's important to remember that liposuction is not considered a weight loss procedure.  I tell my patients that they will notice their results more so in inches lost than in pounds lost on the scale.  I perform liposuction in the appropriate tissue plane to ensure that your results are smooth and even.  A mistake that some surgeons make is allowing the cannula to get too close to the surface of the skin (the subdermal layer of fat which is right under the skin) and this is what results in dents, ripples, and uneven, unnatural contours.
Liposuction is best performed on La Jolla patients who are close to their ideal weight but have genetically predetermined stubborn fat deposits that won't go away, despite adherence to a healthy diet and regular exercise routine. Therefore, while liposuction does help you lose a small amount of weight, and help jumpstart you into a higher level fitness and activity, it is really a body reshaping procedure with the goal of providing you with the most aesthetically pleasing appearance possible.  It is up to each patient to maintain this result.
What is Liposuction Recovery Time Like?
Recovering from liposuction is relatively simple and complication free. After your surgery, you will wear a compression garment for about 2 to 3 weeks to reduce swelling. While you may experience some bruising and discomfort for the first few days after your liposuction procedure, it is typically managed well with prescriptions.  While you need to rest the first few days following your La Jolla liposuction procedure, you should be able to resume driving and your normal, everyday activities about 4 to 5 days after your surgery.  Most of my patients say that their surgeries were very well tolerated with minimal, easily managed discomfort.
About 5 days after your liposuction procedure, you will return to my office so we can remove your small liposuction stitches. You will also return to Brucker Plastic Surgery at 2 weeks and 6 weeks post-op for follow-up appointments to check on your swelling, bruising, and progress.   Most of my patient see a marked improvement beginning a week or two after surgery and continued improvement over the coming months.  You can expect to see your final results after about 6 months after your La Jolla liposuction surgery, which should be permanent as long as your weight remains stable.
Finding Out More About Liposuction.
If you'd like to find out more about liposuction, we recommend that you speak directly with Dr. Brucker. To schedule a liposuction consultation in his La Jolla offices, call 858-707-7517.