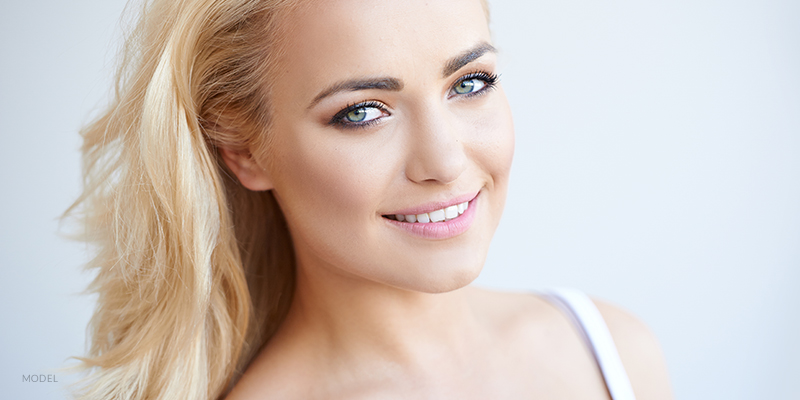 Significantly reduce the appearance of facial lines and wrinkles with BOTOX® Cosmetic. An injectable substance, BOTOX temporarily inhibits the mechanisms of expression that cause moderate-to-severe crow's feet, wrinkles, and deep furrows. The procedure takes just a few minutes, and its results generally last 3 to 6 months.
Because every person's facial anatomy is different, the professional who conducts the BOTOX treatment should have an in-depth understanding of the face and its muscles. Dr. Michael J. Brucker and his team offer extensive knowledge of both facial aesthetics and anatomy. Our BOTOX treatments are performed in our La Jolla locations to provide a great patient experience and optimal results.
The Purpose of BOTOX
Some of the lines and wrinkles you see on your face aren't necessarily permanent and prevention is the key.  Instead, some lines and wrinkles are the results of ongoing muscle contractions. BOTOX prevents these contractions, and as a result, your skin is able to relax, creating a younger, smoother appearance.
A non-invasive approach to rejuvenating facial features, BOTOX is a good fit for patients who don't have the need or time for a more extensive procedure. The solution can support people with a broad range of needs:
Younger patients in La Jolla can start a BOTOX regimen as a preventative measure just as lines and wrinkles begin to appear. With regular injections–approximately every three months–treatment can prevent permanent signs of aging from forming and deepening.
Older patients can reduce the appearance of existing wrinkles like crow's feet and frown lines. Regular injections can maintain these results and postpone more invasive procedures.
Some La Jolla patients prefer to use BOTOX as a treatment for special occasions. They opt to refresh their features to celebrate a birthday or to prepare for holiday get-togethers.
BOTOX can address several concerns, including fine lines and wrinkles around the eyes, forehead, between the eyebrows and the neck. Dr. Brucker can advise you about areas of treatment and expected results. 
How Dr. Brucker and His Team Performs BOTOX®
Your initial consultation with Dr. Brucker or our nurse injector will include a comprehensive examination and discussion about what you want to accomplish. We provide a host of aesthetic solutions, and we may recommend BOTOX as a standalone treatment or in conjunction with other procedures.
La Jolla patients may be able to receive BOTOX on the same day as their initial visit if blood thinners have been avoided for at least two weeks prior to the appointment. During the treatment, your provider will introduce the BOTOX with an extremely small needle. Most patients describe the experience as very tolerable and quick, and if you wish, numbing cream can be applied before treatment.
Your Experience with BOTOX®
Dr. Brucker and his team of experienced nurse injectors will manage your entire treatment, including your initial consultation and your BOTOX injections. He and his team will be available to answer any questions you have along the way. Expect a high standard of care throughout the process. 
La Jolla BOTOX patients typically have a very simple and easy recovery:
Dr. Brucker may advise you to avoid strenuous exercise in the first 24 hours after your procedure.
You may experience some limited bruising in the areas of treatment. These signs should be gone within 4-5 days.
Side effects are typically manageable and temporary. If you have any concerns following treatment, Dr. Brucker encourages you to contact his practice.
You should notice a reduction in the appearance of facial lines and wrinkles within two days. The full effects should be visible after 4 to 5 days.
As a result of your treatment, you should benefit from subtle-but-noticeable rejuvenation. Follow-up visits for BOTOX can help to atrophy the muscles that cause lines and wrinkles; with treatment over time, you could see more lasting results.
BOTOX provides La Jolla patients with a non-invasive option for improving facial lines and wrinkles. To learn more about Dr. Brucker's approach, schedule an appointment online or by phone.
---
Schedule Your Virtual Consultation By Clicking Here
---