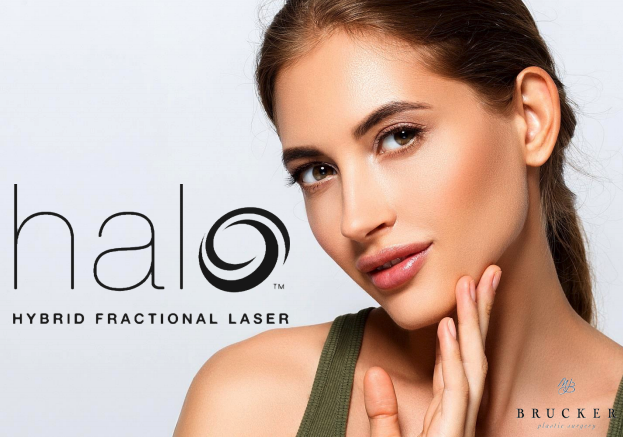 Over time, your skin can lose its youthful glow due to sun exposure and your body's natural aging process. As a result, your face and body may develop sun spots, fine lines, and lose its natural healthy glow and luminosity. Previous lasers couldn't effectively remove this damage because the treatment was either too shallow or too deep. Everyone's skin is different. Everyone's needs are different. Halo is a hybrid fractionated laser treatment that eliminates years of damage by precisely customizing the right depth for your skin concerns and to fit your lifestyle. Need to be back at work tomorrow? A light treatment creates smooth, vibrant skin that's ready for makeup  in 1 to 2 days. Want to WOW them? A more intense treatment will give your skin that youthful glow with just several days of downtime.
In the past, you had to choose between a laser procedure that offered great results but required a lengthy, unpleasant recovery or a procedure with a fast recovery but limited results.  With Halo you get the best of both worlds: great results with minimal downtime.  Halo creates beautiful, luminous results safely without the downtime of more aggressive treatments.

Benefits of Halo:
Customizable treatment to precisely target skin damage
Improvement in the appearance of tone, texture, fine lines* and wrinkles
Reduced pore size
Increased reflectivity and glow
Flexibility in treatment levels and downtime
Treatments may be performed on the face, neck, hands, and body
*only with Halo Hybrid Treatments
Halo precisely targets years of damage to your skin, including:
Discoloration and Melasma
Sun damage
Visible signs of aging
Uneven skin tone
Enlarged pores
Poor texture
Fine lines*
Scar revision*
*only with Halo Hybrid Treatments
Halo FAQs
What results can I expect?
Halo is a complete skin rejuvenation treatment. You will see improvements in overall tone and texture in addition to significant removal of discoloration, reduction in fine lines*, reduced pore size, skin reflectivity and glow.
How many treatments do you need?
What's great about Halo is that you can choose how many treatments you want. Discuss your needs with us and you can choose to have one more aggressive treatment or have a few treatments that are less aggressive with quicker recovery and achieve a similar goal over a longer period of time.  We tailor your Halo experience to fit your lifestyle.
What happens during the treatment?
Thirty minutes to an hour before the treatment we will use a topical anesthetic on your skin to reduce the sensation during the procedure. The area will be measured with motion tracking technology to ensure the area is treated evenly. We will treat each section by uniformly rolling the Halo handpiece over the skin until the system recognizes the treatment is complete and even.
What does Halo feel like?
With a topical anesthetic and integrated cooling technology, most patients experience some discomfort with a feeling of heat and occasional prickling sensations. After the treatment, you will continue to feel heat for an additional 1 hour, or a bit longer with deeper treatment levels. After 1 to 2 hours this feeling of heat dissipates quickly.
What should I expect after the treatment?
For the first 24 hours you should keep your skin free of any unnecessary products and be sure to follow the instructions we provide. Minor pinpoint bleeding can be expected.  After the first 24 hours your skin will begin to peel. For a facial treatment, you will see very little change on the first day but you will experience some swelling which can last 3 to 7 days. After 2 to 3 days you will develop a light bronzing, speckled appearance. Do not exfoliate or pick at the sandpaper-like surface debris as this may cause pigmentation problems or scarring.  By day 3 or 4 your skin will start to slough, revealing your new skin beneath.  Mineral makeup such as Alastin Hydratint Pro Mineral can be worn the day after treatment. 
Dr. Brucker will advise you on specific after-treatment care recommendations and products which will include:
Elta MD Laser Enzyme Gel
Benev Squalane Oil
Benev Essential Lipids and/or Alastin Hydrating Moisturizer
Alastin Mineral Tinted Sunblock, Elta MD Sunscreen, or ZO Sunscreen Primer
ZO Gentle Cleanser or Cetaphil Cleanser
When will I see results?
You will see initial results between 4 to 6 days after your Halo treatment, but your skin will continue to improve over time. Most patients see the greatest pigmentary improvement in the first 2 to 3 weeks. This is followed by a dermal regeneration phase that continues to improve for months.  Most patients describe loving their post procedure "Halo glow".
How long will my results last?
Our Halo results will last for years to come, but you should continue to keep your skin protected at all times using broadband UVA/UVB sunscreen to protect your new, healthy skin. Each additional Halo treatment will improve upon your results, giving you even better-looking skin.
How much does a Halo treatment cost?
Every Halo treatment is customized for your skin, and your lifestyle. Depending on your needs, Dr. Brucker may recommend a single treatment, or a series of treatments. In order to find out which is the ideal option for you, please contact us for an in-person consultation. 
Contact Us
*only with hybrid treatments
Patient Testimonials
Our patients LOVE Halo!
90% of patients say "Halo is worth it" and Halo received the Most Worth It Award from RealSelf in 2016.