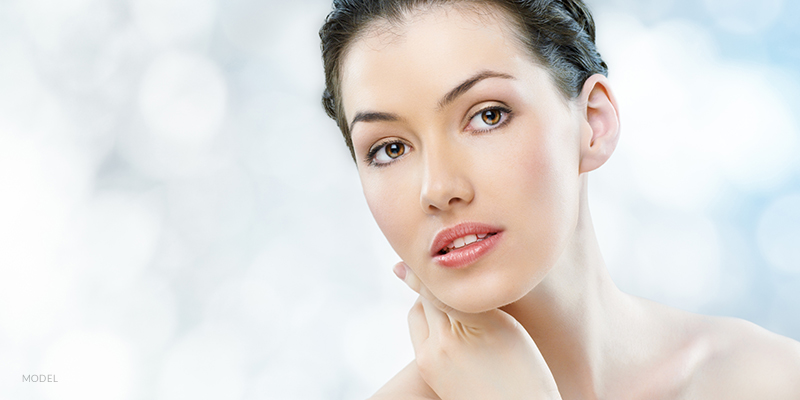 Dermal fillers can return fullness to facial features and reduce the appearance of lines and wrinkles. JUVÉDERM®, one of the most popular collections of fillers available to patients, offers rejuvenating effects, immediate improvement, and a natural-looking, natural-feeling result.
JUVÉDERM products are made from hyaluronic acid, a substance found in the skin that delivers nutrients and helps retain moisture and softness. By design, JUVÉDERM both restores volume and encourages the development of healthy skin over time.
Dr. Michael J. Brucker provides the full spectrum of JUVÉDERM products to La Jolla patients including Voluma, Volbella, and Vollure. By leveraging years of experience as a board-certified plastic surgeon, and as experienced aesthetic nurse injectors, we are able to provide more youthful, artfully contoured features.
The Purpose of JUVÉDERM
Aging and environmental factors inevitably lead to lines on the face and a loss of volume in facial features. Dr. Brucker injects JUVÉDERM, which is clear and biodegradable, in small amounts to fill in these areas beneath the skin. The treatment takes effect right away, and you should be able to enjoy the benefits for up to a year or more. 
Different formulations of facial fillers have different textures, firmness, and duration. This variety allows Dr. Brucker to give the appropriate "feel" to different areas of the face. Here are some of the features he may treat with JUVÉDERM products:
JUVÉDERM VOLUMA® XC injectable gel is for deep injection in the cheek area to correct age-related volume loss in adults over 21.
JUVÉDERM® XC

injectable gel is for injection into the facial tissue for the correction of moderate to sever facial wrinkles and folds, such as nasolabial folds. 

JUVÉDERM® ULTRA XC is for injection into the lips and perioral area for lip augmentation in adults over the age of 21.
JUVÉDERM VOLBELLA® XC 

injectable gel is for injection into the lips for lip augmentation and for correction of perioral lines in adults over the age of 21.

JUVÉDERM VOLLURE® XC injectable for correction of nasolabial folds to move with natural facial expressions.
Lines and wrinkles. La Jolla patients often have concerns about deep lines at the sides of the nose and "parentheses" lines that appear around the mouth. JUVÉDERM can reduce the appearance of these lines immediately upon injection.
Cheeks. Softly contoured cheeks with a high position on the midface help create a youthful look. JUVÉDERM VOLUMA®, a firmer formulation of the product, effectively restores volume to the cheeks. It is an excellent alternative to fat grafting because it is durable, long lasting, and requires less invasive treatment.  Voluma has been shown to last 1 to 2 years in the cheek area.
Lips. Dr. Brucker may advise patients interested in lip volume to use Juvederm Ultra XC or Juvederm Volbella XC.  He is careful not to overfill the lips, helping prevent a "trout pout" (lips that are strangely plump and unnatural-looking). As a result of this  approach, the La Jolla patient's lips should retain a natural but youthful pout after treatment.  Juvederm Volbella XC is the only product currently on the market to target vertical lip wrinkles also known as "smoker's lines" or "pucker lines" around the mouth.
Most La Jolla patients who receive JUVÉDERM from Dr. Brucker and his team have a high degree of satisfaction with their results which are typically long lasting. Less product is required for touch-up treatments, reducing the cost and time involved in maintaining the filler's benefits.
How Dr. Brucker and His Team Perform JUVÉDERM Treatments
Your initial face-to-face consultation with Dr. Brucker or nurse injector will be very comprehensive. An in-depth conversation will allow you to discuss the areas you want to address, learn about treatment options, and see the advantages that each has to offer.
Dr. Brucker often recommends JUVÉDERM because:
It is a mid-level hyaluronic acid that provides smooth skin consistency and a soft feel.
JUVÉDERM has enough density to fill in deep areas and provide tone while not feeling artificial to the touch.
Hyaluronic acid naturally adds moisture and nutrients to the skin. As a result, the benefits continue for months afterward.
The treatment is relatively quick. Dr. Brucker and his team will use ice or numbing cream to numb your treatment areas.  We only use Juvederm XC products which provide "extra comfort" because there is a numbing agent mixed into each syringe.  Dr. Brucker will introduce the JUVÉDERM using a tiny needle, injecting small amounts at a time. Throughout the process, Dr. Brucker or your nurse injector will check in with you to make sure you are comfortable and that you are happy with how you look.
Your Experience with JUVÉDERM® Ultra XC, Juvederm Voluma® & Juvederm Volbella® XC La Jolla
In many cases, Dr. Brucker can provide treatment with the appropriate JUVÉDERM product for your particular concerns on the day of the first visit. He will use an approach that prioritizes your comfort and produces a natural but significant improvement. La Jolla JUVÉDERM patients will look like themselves after treatment, just with smoother, fuller features.
You can return to normal activities immediately after you receive JUVÉDERM. You may have some swelling for a day or two, and possible bruising.  We recommend that patients avoid blood thinners such as aspirin and ibuprofen for at least 10 to 14 days before treatment to minimize the likelihood of bruising. 
If you have questions about any other effects you notice, Dr. Brucker and his staff are available to address your concerns. That said, the majority of JUVÉDERM patients are so satisfied with their results that they return regularly for touch-up treatments.
JUVÉDERM provides patients in La Jolla with a non-surgical option for adding volume to facial features such as the cheeks and lips and diminishing deep lines. To explore treatment, schedule an appointment with Dr. Brucker online or by phone.
---
Schedule Your Virtual Consultation By Clicking Here
---