What is Liposuction?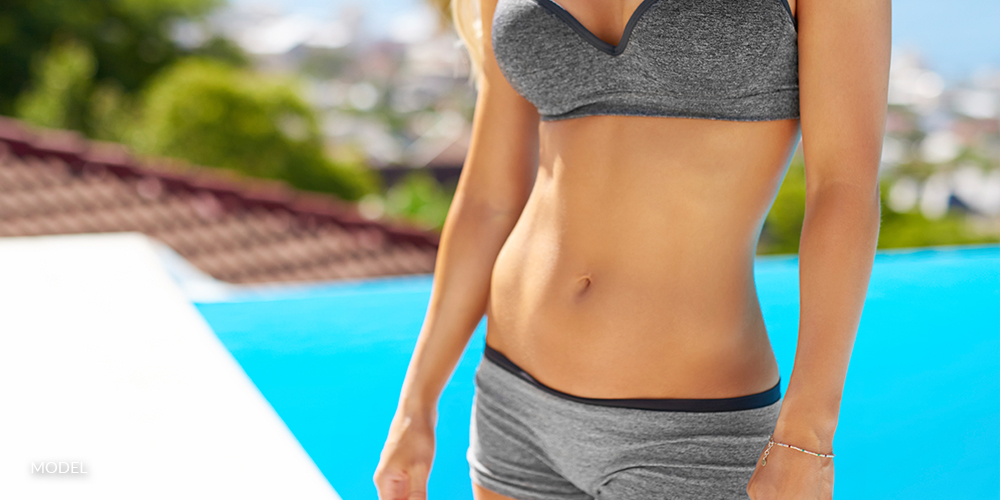 If you are close to your ideal weight but want to eliminate fat deposits from your abdomen, thighs, hips, or other parts of the body, liposuction may help. This procedure can reshape areas that are resistant to diet and exercise, providing a more aesthetically pleasing and proportionate appearance.
Dr. Michael J. Brucker has performed over 5,000 procedures for patients in La Jolla, including liposuction, during his more-than-15-years in practice. Patients rely on his work because of his esteemed reputation, detailed approach, and excellent safety record. Dr. Brucker tailors each procedure to the patient's needs, employs techniques that provide smooth, even contours, and spends the time necessary to create attractive results.
---
Watch the video below to learn more about the areas that can be done with liposuction.
---
The Purpose of Liposuction
Unwanted deposits of fat can form bulges that take away from the aesthetic contour of your body and can make comfortably fitting into certain styles of clothing more challenging. Liposuction removes this fat in a simple and well-established procedure. Dr. Brucker can reshape many parts of the body including:
Abdomen and chest.
Hips, thighs, back, and buttocks.
Upper arms.
The area beneath your chin.
It is important to note that liposuction is not a weight-loss procedure.  Liposuction is most effective when focused on select areas of unwanted fat rather than for generalized fat removal from many areas of the body. It provides optimal results to patients who have skin that is firm and elastic and who are already in relatively good physical shape.
---
Does liposuction remove fat permanently? Watched the video below for a detailed explanation from Dr. Brucker.
---
How Dr. Brucker Performs Liposuction
During your initial consultation at our La Jolla practice, Dr. Brucker will take the time to explain how liposuction works, respond to any questions you may have, and outline what you can expect during your recovery.
As you do your research you will find that there are many gimmicks and fads on the market when it comes to fat removal.  Dr. Brucker only employs new technologies and techniques once they have been proven effective and beneficial. 
Dr. Brucker classifies liposuction technology into two categories: "assisted" and "unassisted."
Assisted technologies use vibration, harmonics, laser and other forces to break apart fat.  Examples of assisted technology include Vaser, SmartLipo, laser liposuction, and Sonobello to name a few.  Some of these technologies are performed by clinicians or dermatologists rather than by board-certified plastic surgeons.
Unassisted technology relies on the surgeon's own controlled and precise movements to loosen and remove fat.
In Dr. Brucker's experience, unassisted liposuction tends to provide better results than assisted liposuction. Because unassisted liposuction relies on his own movements, he can feel the changes he is making as he performs the procedure. This helps him create natural, even contours and ensure that each area blends into the next smoothly.  In contrast, assisted liposuction procedures can add unnecessary risks to an otherwise very safe procedure.
Of course, modern, minimally invasive instruments and proven tumescent techniques are always employed with Dr. Brucker's unassisted approach to provide the safest possible operation with minimal scarring.

Your Experience with Liposuction
Your procedure will take place under general anesthesia in Dr. Brucker's AAAASF-certified operating room. For your safety and peace of mind, our operating rooms, equipment, and staff are certified to meet the same rigorous standards as hospital operating rooms.
The same staff that you meet during your consultation will assist you the day of your procedure and give you post-operative guidelines and care. This should provide you with a more consistent, familiar, and personal experience than a procedure done in a hospital setting.
While some doctors perform liposuction with only local anesthetic (numbing the areas operated on while the patient is awake), Dr. Brucker's experience is that patients are much more comfortable with a light anesthetic.  Because his patients are comfortably asleep during liposuction, Dr. Brucker can take his time, even with large areas, to sculpt attractive and natural-looking results.  In contrast, without anesthesia, the numbing of large areas can be quite uncomfortable and full numbness may not be possible due to the risk of Lidocaine toxicity.
The length of time that patients spend in liposuction procedures depends on the size and number of areas being treated. During the procedure, Dr. Brucker makes use of microcannula to keep incisions small and to aid in a quicker recovery with less bruising and swelling.
After surgery:
You will wear a compression garment for 2 to 3 weeks.
You may notice some bruising and experience some short-lived manageable discomfort that requires taking medication for 1 to 3 days.
You should be able to return to driving and other normal activities within 4 to 5 days.
Dr. Brucker will remove stitches 5 days after your procedure, and then you will see him for 2 additional follow-up appointments (2 weeks and 6 weeks postoperatively). The majority of swelling should begin to resolve noticeably in about 2 weeks with the final result evident after several months.
Once liposuction is performed, your results are generally permanent as long as you maintain a healthy lifestyle.   The body turns over fat cells about once every 7 to 8 years, so if you gain weight after your surgery, it may go to the same areas that have been treated although your overall weight gain should be more proportionate. With maintaining a sensible diet and exercise regimen, liposuction can offer you a permanent improvement that provides you with tighter, firmer, and more aesthetically-pleasing features.
Liposuction offers patients a well-established procedure for slimming and shaping problem areas. Learn more by scheduling an appointment with Dr. Brucker online or by phone.
---
---