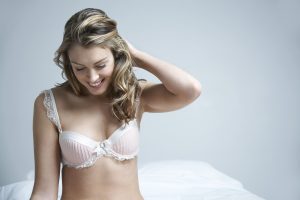 A common complaint I hear in my La Jolla office is the unattractive and undesirable complication of breast augmentation surgery–breast implant rippling. Rippling can occur with both silicone and saline implants, and can be either felt and/or visible on the naked breast. Typically, breast implant rippling occurs along the outer side of the breast and the inner side of the breasts next to the cleavage, exactly the place where most La Jolla women don't want any displeasing results to be visible. Breast implant rippling can be caused by a variety of reasons, including: 
Your Saline Breast Implants are Over or Under Filled.
If you opted for saline breast implants, they were inserted into your breast pockets without saline, and then filled with saline solution. All saline implants, no matter their fill volume, will have a greater chance of rippling than silicone implants.  It is usually common to slightly overfill saline implants by a margin of 30 to 50 ccs but extreme overfilling or underfilling can cause the implants to scallop/ripple along the edges. The good news is that a breast revision surgery – with either new saline or silicone implants – can usually improve the outward appearance of rippling of saline implants.
Your Breast Implant is Too Big for Your Unique Anatomy.
Some La Jolla women opt for breast implants that are too large for their anatomy, and can put too much tension or stretch on the skin of your breasts. While I will always advise my breast augmentation patients that implants that are too big come with additional risks and may look aesthetically displeasing, it is not uncommon to see disproportionately large implants placed by other physicians in the plastic surgery community. If you're a woman with breast implants that are rippling because they are too big or heavy for you, I can perform a breast revision surgery with an implant size that better fits your anatomy.
You Lack Adequate Tissue Coverage.
If your breasts are naturally very small, you may have poor tissue coverage over your implants, which can result in visible breast implant rippling. If your breast implants are rippling because of poor tissue coverage, I can perform a breast revision surgery with breast implants that are specifically engineered for minimal rippling.  These implants can be slightly firmer but ultimately, an in-person discussion with me can identify the most appropriate way to work with your limited breast tissue and give you as natural of a result as possible.
Your Breast Implants Were Placed Subglandularly.
Most La Jolla women choose to have their breast implants placed submuscularly, or under the muscle. But some La Jolla women, especially athletes, choose to have their breast implants placed subglandularly, or above the breast muscle. Implants that are placed above the breast muscle, are more likely to have visible rippling.   In this plane, especially in thin or small-breasted women, there is minimal coverage for the implants as discussed previously.  The muscle helps by providing a transition layer between your breast tissue and implants. If you're a La Jolla woman with subglandular breast implants, I can discuss different breast surgery revision options including the possible use of silicone implants that are designed for less rippling and discuss reaugmentation in either the subglandular or submuscular plane. 
Learning More About Breast Revision Surgery.
If you have breast implant rippling that can be seen or felt, you likely want to have a breast revision surgery to fix this issue. To learn more about the breast revision procedure, we encourage you to speak with Dr. Brucker of Brucker Plastic Surgery directly. During a consultation with you, he will explain the likely reason(s) your  breast implants are rippling, what he can do to prevent future rippling, listen to your concerns and answer any questions that you have.
To schedule a consultation with Dr. Brucker today, call (858) 450-1776.