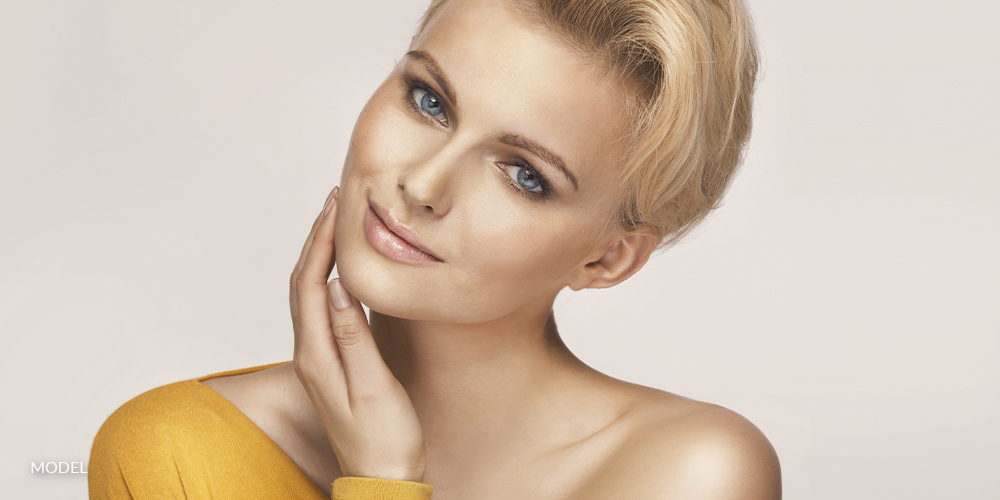 At our practice, we're dedicated to helping you recover from your procedure as quickly and healthily as possible. That is why we're proud to offer our patients VitaMedica® Products that are designed to support you after surgery to lessen bruising & swelling. We also carry products that help restore intestinal flora to keep things moving through your stomach after post-op medication use and antibiotics.
See which products we carry below and don't hesitate to call us at (858) 450-1776 if you have any questions! Products are available for purchase in our office.
ARNICA + K CREAM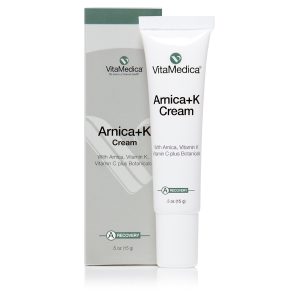 Restore Healthy-Looking Skin
Formulated with natural ingredients including Arnica montana, vitamin K, vitamin C and botanicals to improve the appearance of post-procedural bruising. Arnica + K Cream softens, calms, moisturizes and restores bruised skin. Tube contains 0.5 oz.
Ideal following cosmetic filler injections and after facial surgical procedures – Arnica Montana has been traditionally used for bruising
Vitamin K hastens the resolution of bruising
Phytosome® plant sterols reduce vascular permeability and swelling
Chamomile cools, soothes and refreshes
Natural grapefruit oil imparts faint, fresh citrus scent
Silicone base has an elegant, silky feel
Free of parabens, artificial colors, and fragrances
Made in U.S.A.
Product Details:
Arnica Montana is an herbal remedy that has been traditionally used for bruising.
Clinical studies have demonstrated Vitamin K's role in hastening the resolution of bruising after a cosmetic procedure or injury.
For optimal results, take with Homeopathic Arnica Montana 30X tablets.
Phytosome® plant sterols reduce vascular permeability, edema and swelling.
Vitamin C ester, hesperidin, horse chestnut, comfrey and grape seed extract strengthen capillaries and improve micro-circulation to injured tissue.
Chamomile cools, soothes and refreshes.
Natural grapefruit oil imparts faint, fresh citrus scent.
Free of parabens, artificial colors, and fragrances.
---
ARNICA MONTANA BLISTER PACK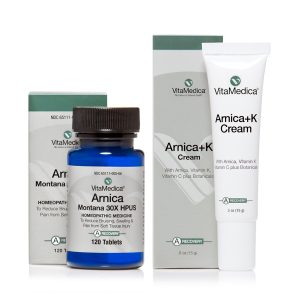 Reduce Bruising from Fillers & Injections
Packaged in a convenient blister pack, Arnica Montana is perfect for busy, active lifestyles. Homeopathic Arnica Montana has been used for centuries to treat bruising, swelling and pain associated with soft tissue injury. Blister pack contains 30 tablets.
Homeopathic Arnica Montana 30X potency
All natural medication stimulates healing
Sublingual tablets dissolve rapidly
Ideal after injectables & fillers (e.g., Radiesse®, Restylane®, Juvederm®).
Convenient 5-day blister pack
Excludes dyes or colorants
Gluten-free
Manufactured in FDA certified facility
Made in U.S.A.
Product Details:
Homeopathic preparations have been used for centuries in Europe to safely treat a variety of conditions.
All natural medication works without side-effects to gently stimulate healing.
Arnica Montana plant organically grown in the mountainous regions of Western Europe and U.S. Single remedy medication excludes dyes or colorants.
Arnica Montana 30X formulation eliminates the challenge in determining the appropriate product, potency, and formulation to buy.
Sub-lingual tablets dissolve quickly without leaving a chalky taste in your mouth.
Manufactured in the U.S. in accordance with the Homeopathic Pharmacopeia of the United States (HPUS).
---
SURGILAX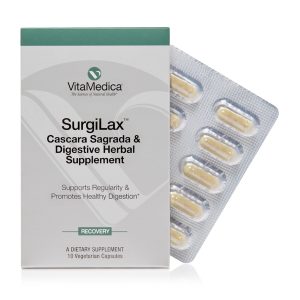 Cascara Sagrada & Digestive Herbal Supplement Dehydration, stress and reduced physical activity can work against your body's normal routine of elimination and cause occasional constipation. Take control and address the problem naturally before it even starts! Blister pack contains 10 vegetarian capsules.
A natural post-op constipation remedy
Developed by an anesthesiologist for his surgery patients
Cascara sagrada naturally promotes regularity
Ginger & peppermint help soothe and calm
Bitter herbs stimulate digestive system
Milk thistle assists body's detoxification process
Convenient 5-day blister pack
100% natural, non-GMO
Vegetarian capsules
Gluten-free
NSF and NPA certified quality manufacturing
Made in U.S.A.
Product Details:
Two-in-one herbal formula developed by an anesthesiologist for his surgery patients. Digestive herbs support digestive health and cascara sagrada promotes normal, regular, and comfortable bowel elimination.
Formulated with 250 mg of cascara sagrada, a botanical traditionally used for its natural herbal laxative effects.
Milk thistle helps eliminate toxins and excess waste and protects and promotes liver health, to assist your body's natural detoxification process.
Antibacterial herbs yellow dock, licorice root, oregano leaf, and Oregon grape provide balance and cleansing support.
Bitter herbs burdock and dandelion stimulate digestive function and their high inulin content promotes growth of beneficial bacteria.
Ginger and peppermint help soothe and calm your digestive system to minimize discomfort associated with occasional constipation.
The high mucilage content of marshmallow coats, lubricates and soothes your digestive tract.
Five-day blister pack with 2 capsules-a-day dosing provides convenience and ease-of-use.
100% natural product that is non-GMO and is suitable for vegetarians.
---
GI Balance Probiotic
Many factors including diet, travel, stress, and antibiotic use can disrupt the balance of bacteria in your gastrointestinal (GI) tract. VitaMedica's GI Balance is a balanced-spectrum probiotic formulated with 10 different beneficial bacteria species to get your digestive system back on track.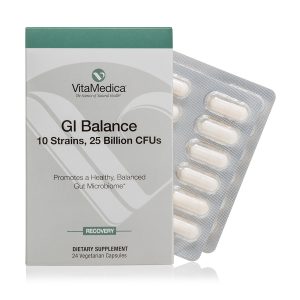 Balanced spectrum probiotic
Promotes healthy digestion†
Supports immune system function†
Promotes nutrient absorption†
Safe to use with antibiotics
Convenient 12-day blister pack ideal for travel
24 vegetarian capsules
Product Details:
Favorably alters the gut microbiome to promote healthy digestion and support immune system function.
Daily dosing guaranteed to provide 50 billion CFUS of live beneficial bacteria at time of manufacture.
Formulation includes Lactobacillus, Bifidobacterium, and Streptococcus beneficial species whose digestive and immune health effects are widely-documented.
Promotes the breakdown of foods and nutrient absorption.*
The addition of the prebiotic FOS assists in the healthy growth of probiotic organisms.*
Twelve-day blister pack provides convenience and ease-of-use. A great companion while traveling abroad.
Safe to use with antibiotics.
*These statements have not been evaluated by the Food and Drug Administration. This product is not intended to diagnose, treat, cure or prevent any disease.
---
Schedule Your Virtual Consultation By Clicking Here
---