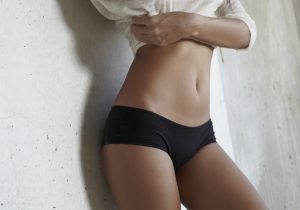 Oh, pregnancy! It gives mothers in La Jolla the children they love but also changes their bodies in the process. One of the most common complaints post-pregnancy is about the "tummy pooch". After childbirth and weight loss, some women notice there is an outward bulge in the abdomen that they just can't diet or exercise away, no matter how many dedicated they are. Others find that that it is more difficult to lose weight and they have loose, excess abdominal skin left over from pregnancy. So how do you get rid of your baby belly? The answer for many women after childbirth is a tummy tuck.
How Does a Tummy Tuck Help Moms Regain Their Abdominal Shape?
A tummy tuck surgery can help the women of La Jolla regain their pre-pregnancy tummy in two different ways. First, by tightening up and stitching together separated abdominal muscles, or "diastasis recti" as it is known medically. This is a very common after effect of pregnancy that results in an abdominal bulge or pooch that you just can't seem to reverse. With abdominoplasty surgery, I'm able to tighten the abdominal wall muscles providing moms with the flatter abdomen they had before babies.
The women of La Jolla who select me as their plastic surgeon also have tummy tucks performed to remove loose and sagging abdominal skin that is left over from pregnancy. Even after you've returned to your pre-pregnancy weight (or pretty close to it), you may discover loose in your midsection that won't tighten back up. Once skin has been stretched to its limit and elasticity has been lost, the only the solution to this issue is an abdominoplasty to remove this skin permanently. 
I perform different variations of tummy tucks depending on your specific situation and goals after surgery. 
Am I a Tummy Tuck Candidate?
When it comes to regaining a fit and trim abdomen, it's important that La Jolla moms keep two things in mind. First, plastic surgery is not weight loss surgery. Removing excess skin from your abdomen and tightening abdominal muscles isn't going to make you lose a significant amount of weight, so you should be at or near your goal weight before surgery. Second, you should be concerned about long-term results. This means you should wait for abdominal plastic surgery if you plan to have more children in the future. While there is nothing unsafe about plastic surgery that prevents future pregnancies, common sense would dictate that you finish growing your family first.
Once you have these two concepts in mind, you'll be screened by me to ensure you're a healthy candidate for elective plastic surgery. Generally speaking, this means:
You're in good overall health with no major medical issues,
You have listened to me explain the surgery and have communicated back to me that you have realistic expectations for your surgical outcome,
You're a non-smoker, as smoking can cause unnecessary health risks, both during surgery and your recovery time period,
You're in good psychological health, and
If your children are still young, you have help lined up to assist you with childcare for the first week or so after your surgery so that you can rest while you recover.
Schedule a Consultation Today
If you're ready to get rid of your baby belly for good, there's no time like today to get the process started. Call Brucker Plastic Surgery in La Jolla to schedule an initial consultation at (858) 450-1776.